Le Corbusier LC4 Chaise Lounge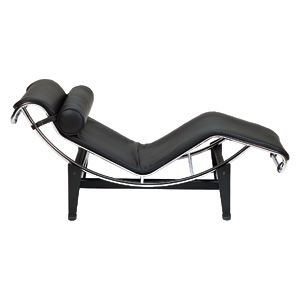 Le Corbusier LC4 Chaise Lounge
Le Corbusier LC4 Chaise Longue Replica is a high-end reproduction 100% Made in Italy.
The LC4 is the definitive chaise lounge built in a shape designed for relaxion. The stability of the frame for any angle of inclination is guaranteed by the friction through rubber tubes that cover the cross bar of the base.
Chaise-longue with adjustable polished trivalent chrome plated (25x20mm) steel frame. Black oval steel (80x20mm) base. Mattress upholstered in leather. Upholsetry available : fiore, pelle smerigliata and pony leather.
Brand : Stile Srl
STRUCTURE
DIMENSIONS
Height: 24.5"/34.5" – 62cm/88cm
Depth: 23.5'' – 60cm
Width: 63'' – 160cm
Weight: 59 lbs – 27kg
MATERIALS:
Natural hairy hide
This is a cowhide natural hair shaved that are offered in various sizes black/white, brown/white, brown/black/white.
Thickness: 1.8-2.00 mm

Medium size: 4.50-4.80 m²
Full grain leather - Pieno Fiore
Full grain leather aniline painted, without refinishing cover silky touch, and maintains the animal original characteristics; wrinkles.
Scratches and unevenness are visible and enhance the natural quality. Excellent quality and durability.
Thickness: 1.5-1.7 mm

Medium size: > 4.50 m²
Grain leather - Pelle Smerigliata
The grain of leather is slightly buffed to remove little defects then subsequently treated with multi-layer of pigmented polymers.
Corrected grain of leather, grain slightly printed, refinished with pigments and resigns, unicolor, soft, Good quality and excellent durability.
Thickness: 1.4-1.6 mm

Medium size: 4.50-5.00 m²