Enjoy Coffee Table Design by Ethimo Studio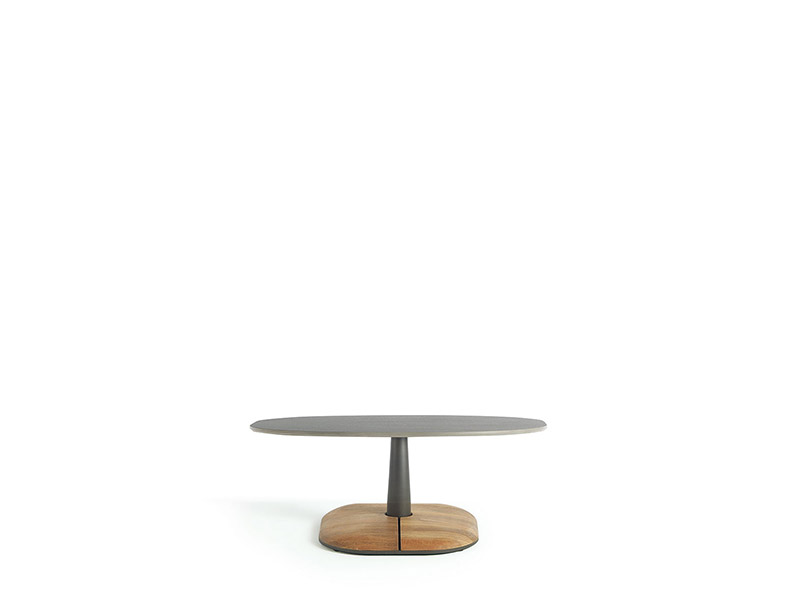 Enjoy Coffee Table Design by Ethimo Studio
The Enjoy collection is designed to be combined with any lounge or dining chair, suitable for any specific need for private or contract use. The metal conical structure, which supports the top, rests on a base that can be declined in natural or pickled teak. In this way, Enjoy can change its 'outfit' to integrate itself in every outdoor context, according to different needs and styles.
Coffee Table available in several finishes and heights.
Made in Italy
Designer : Ethimo Studio
Brand : Ethimo
ADDITIONAL INFORMATION:
STRUCTURE
Metal, teak
MATERIALS
Metal
Ethimo metal is processed and treated to ensure optimal quality, rust resistance, strength and durability when used outdoors. All the hardware used is stainless steel and the paint is made with epoxy powder paints specific for outdoor use. The paints used are solvent-free, they do not contain any VOC (volatile organic compounds) or any toxic heavy metals such as chromium and lead. They are 99% recyclable.
Teak :
The hard yellowish-brown wood of teak used especially for furniture and shipbuilding .
Ethimo teak comes from controlled forest plantation in Thailand and Indonesia. The result is an excellent and high quality material, ideal for outdoor furniture. It is particularly resistant to changes in temperature, water, humidity and saltwater.
Pickled Teak
Teak with vintage charm. First it is brushed to give the surface a rougher, older appearance, and remove the natural oil coating. Then it is tinted. For the grey pickled finish after being brushed, the teak is treated to give it a silver grey coating with an antique effect. For the chocolate version, after being brushed, the surface is treated with a warmer, intense color, that still allows the original vein markings of the teak to shine through. This finish gives the wood long-lasting protection from oxidation.
DIMENSIONS ·
Product Dimensions: Height – 11.42'' (29 cm) ; Width – 27.56'' (70 cm) ; Depth – 27.56'' (70 cm) Weight: KG 23.5
Product Dimensions: Height – 11.42'' (29 cm) ; Width – 35.43'' (90 cm) ; Depth – 27.56'' (70 cm) Weight: KG 27.5
Product Dimensions: Height – 20.08'' (51 cm) ; Width – 27.56'' (70 cm) ; Depth – 27.56'' (70 cm) Weight: KG 24
Table Top colours available:
Base wood finishes available: