Souvenir Round Dining Table D 100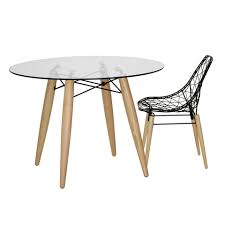 Souvenir Round Dining Table D 100
Dal Segno, based in Northeast Italy, produces contemporary design and Italian style furniture, reinterpreting the classics thanks to a solid experience in design and furniture trends. Dal Segno was established in 2005 by a group of people passionately fond of design.
The collection is suitable for all environments where style, comfort and function are essential factors.
Designed by Dal Segno, Souvenir is an elegant dining table. The frame is in natural solid ash wood and tapered wooden legs with rodwire. The top is a clear tempered glass, 10mm thick with round edges and inox discs. Top available in 100cm and 110cm diameters.
Souvenir tables are sold 2 pcs at a time, 2 boxes.
Frame (30L x 20W x 77H cm)
Top (105L x 105W x 3H cm)
STRUCTURE
DIMENSIONS
Height: 76cm
Diameter: 100cm
MATERIALS:
Tempered Glass
Tempered or toughened glass is a type of safety glass processed by controlled thermal or chemical treatments to increase its strength compared with normal glass. Tempering puts the outer surfaces into compression and the interior into tension.